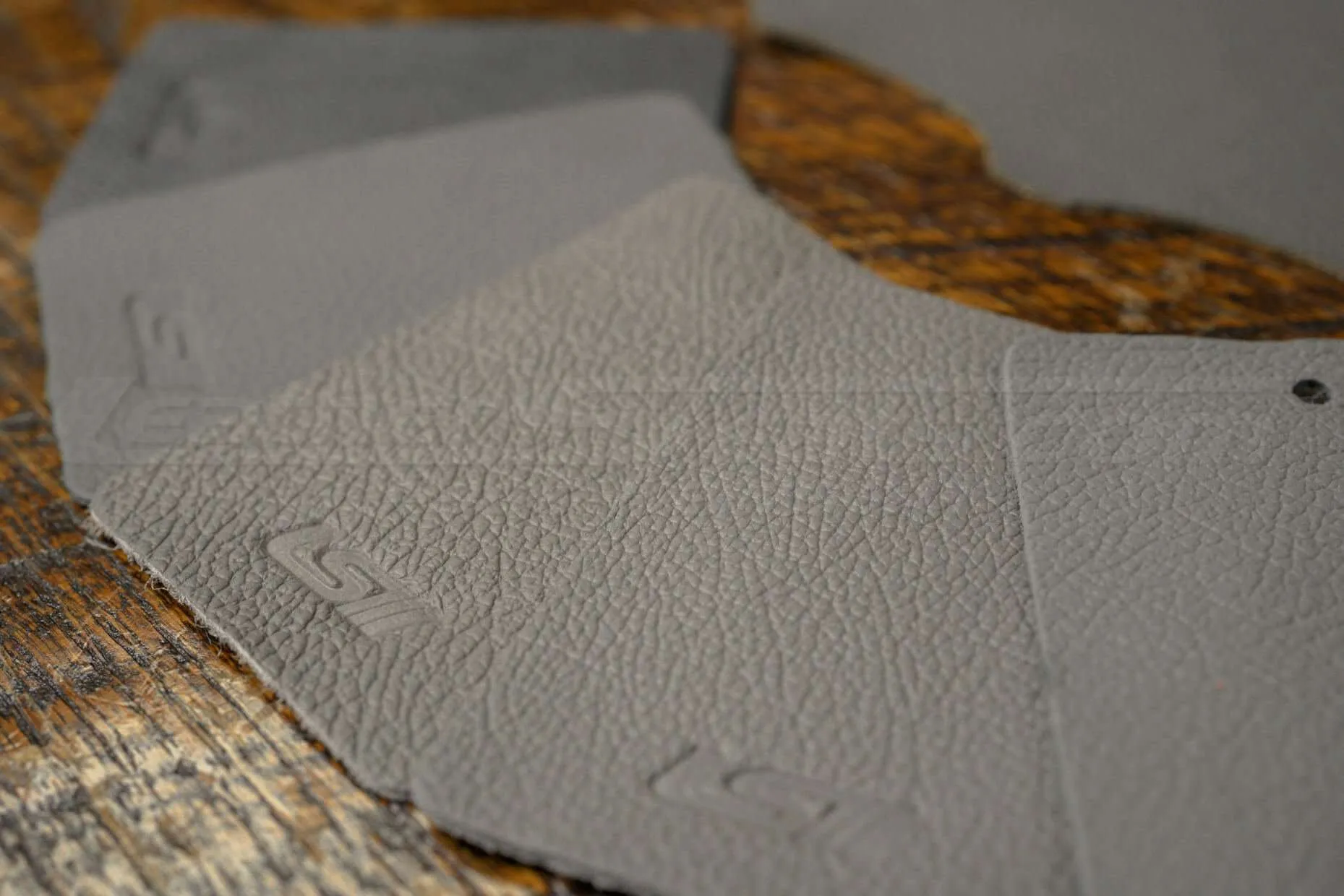 Color choice can be a very tricky part of the order process because color is so subjective. It is so subjective because there are so many variables that can affect how color is seen. The biggest variable when trying to pick colors over the internet is going to be monitor settings. The age and settings of a monitor can drastically affect the hue or shade of the color. The monitor and the lighting in which the digital image is taken can determine a lot concerning the representation of a color. For example, an image taken in full natural sunlight will look very different from an image taken under artificial lighting. These variables make it almost impossible to be 100% accurate in picking colors based on a digital image. Take a look at the image to the left for an example of how the same color can look different because of how the image was taken and the representation of that image on the monitor.
Color is also variable in a person's physical eye because of how the eye and brain translate the color. One customer may consider a certain shade of tan to be too brown for their interior, while another person may consider it a perfect match. The amount of lighting and the type of lighting in which you try to match a color has a lot to do with the results.
You can easily see an example of this by looking at a piece of the plastic trim in your vehicle in full light versus in a shadow, and you will see the perception of that color change a lot. If you look close enough, you will see that it is very common for many vehicles to have several shades of an interior color in their vehicle because even the manufacturers have a hard time managing color tones. As you can tell, there are many variables involved in color selection and how different people perceive color. It might seem impossible to get a true match, but do not give up hope. Several solutions will increase your selection accuracy.
The best way to eliminate these variables is by contacting us for color suggestions, pictures, and/or color samples.  For most vehicles, we can offer a suggested color match for your interior, which can usually be confirmed via pictures. However, it is ALWAYS best for our customers to see the colors in person, so if you are having trouble finding the right color for your interior, or if you want to see the texture and thickness of the leather before you buy, then, by all means, email us. We are willing and able to send out FREE samples to any future customers. To request samples, please email us your name, mailing address, vehicle details, and the colors you would like to see, and we will mail them to you as soon as possible.  Please contact us with any further color questions or requests for color suggestions and pictures.
If you have requested samples and received them, you need to begin comparing them to your original interior to match the existing color or come up with your own custom color scheme. Here are some helpful tips for matching factory interior colors…
1- Bring your vehicle out into even sunlight.
2- Compare the sample colors to multiple locations within your vehicle's interior. (i.e., plastic seat trim, door panels, dash, and/or old upholstery.)
3- The best location to match the sample colors is directly against the plastic trim pieces on or near the seats being upholstered.
4- Call us if you have your samples in hand and have a hard time making a color decision.
In most cases, we can help you by recommending a color based on the colors you have received and what other customers have ordered in the past. However, if you aren't finding the color you are looking for in our samples packet, be sure to contact one of our aftermarket leather experts about receiving more samples.
Special Note: Because leather color may vary from dye-lot to dye-lot, we cannot guarantee the color you receive on your interior kit will be exactly the same as the samples. There may be some variation in the color and grain of the leather. Returns cannot be accepted based on color.