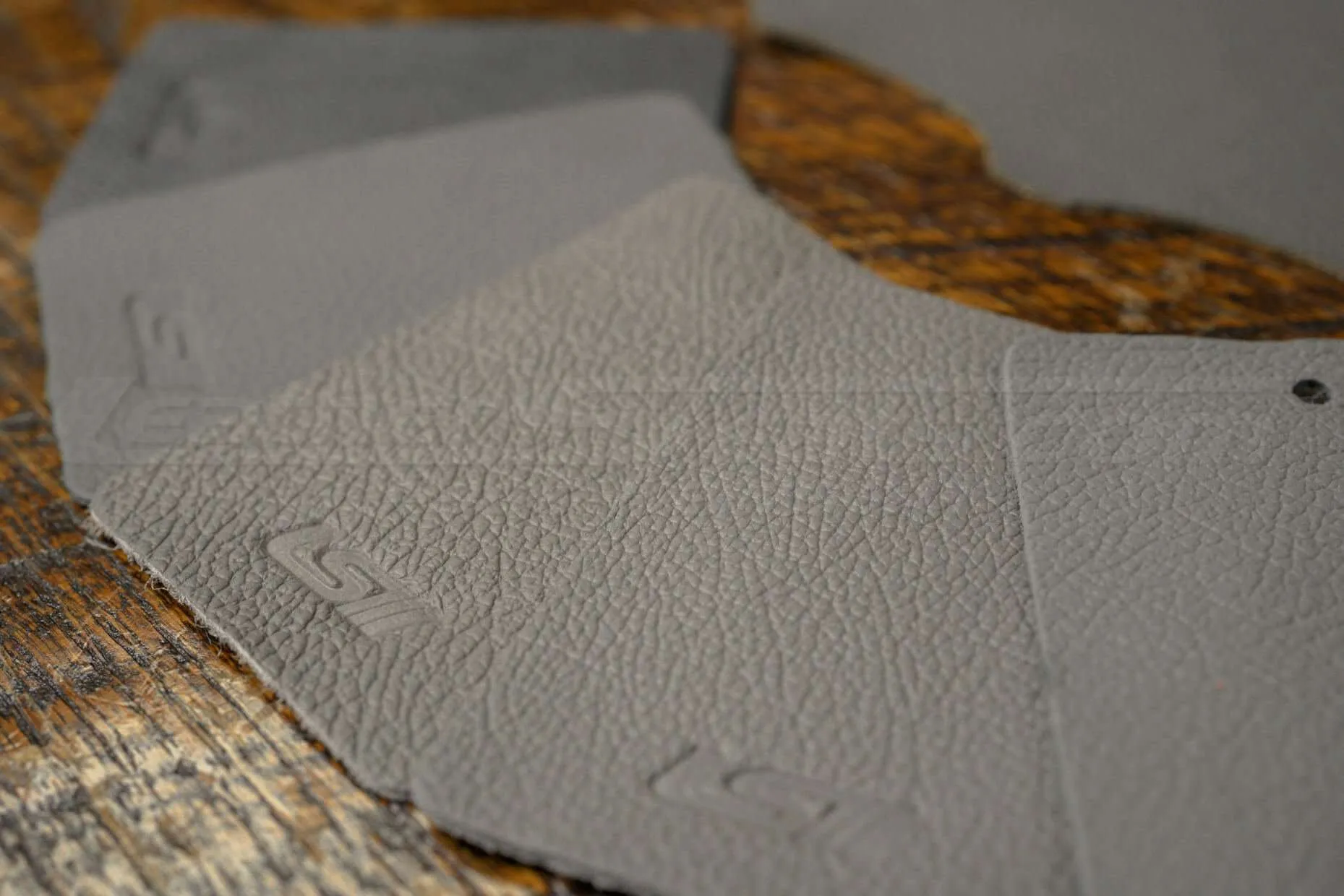 Color is one of the most crucial decisions when it comes to picking out your leather interior kit. When viewing colors on our website, digital swatches might appear differently than they would in person, depending on your device's settings and the light you're viewing it in. A warm shade of red online might be more maroon in person, while a dark grey might resemble black.
While exploring our digital swatches on our Colors Page, we aim to portray our colors as accurately as possible. However, physical samples will always be the most accurate form of representation.
Ultimately we do not advise choosing a color match based on an image.
After you order your kit, we will contact you to go over vehicle details, seating configuration, colors and custom options. Before we send your new leather kit to production, we encourage all of our customers to allow us to send them free physical samples in the mail. You can request multiple colors so you can compare shades and get an idea of what the texture of your kit may be like.
Many manufacturers use a combination of different colors and materials for vehicle interiors. The plastic trim can get dirty and fade over time just like your factory seat upholstery. Your vehicle's interior will also appear a different hue when parked in the shade, versus when parked under natural sunlight. Keep in mind that we may have a swatch with a name similar to a manufacturer's factory color. This does not guarantee an exact match, we may have a color that is closer to the one you are looking for.
These factors make it almost impossible to be accurate in picking colors based on a digital image. While in some cases we can offer suggestions for colors similar to factory configurations, physical samples are the best form of representation that we can offer.
Once you receive your samples in the mail, we recommend pulling your car out into direct sunlight. It is a good idea to clean your plastic trim pieces beforehand. Use your factory upholstery as a starting point and compare samples next to all components of your vehicle's interior.
Once you have decided on a color, contact us to confirm your order.
Some key points to remember:
The swatches featured on our Colors Page are digitally rendered. While we have done our best to portray them as accurately as possible, we cannot guarantee an exact match due to device screen setting differences. Samples are always the best form of representation.
You can always request free samples, before or during the ordering process. Once your order is confirmed and production has begun, your leather interior kit cannot be canceled and, in most cases, cannot be returned once you receive it.
Car interiors have multiple components that can vary in color based on manufacturer configurations, age, and overall use. Once you receive samples, compare multiple parts of your vehicle's interior: plastic seat trim, door panels, dash, and/or the old upholstery. The best location to match the sample colors is directly against clean plastic trim pieces on or near the seats being reupholstered.
Manufacturer colors with names similar to our swatches do not mean they are a match. We may have a color closer to the one you're seeking with a different name. Samples are always the best form of color representation.
If the leather samples we send you don't help or you are torn between two different colors, give us a call at 866-639-7328. In most cases, we can help you by recommending a color based on the samples you requested and what customers with the same vehicle have ordered in the past. If you are still having difficulty, you can always request more samples from our aftermarket leather experts.
*Leather color can vary depending on the dye lot. We cannot guarantee the color you receive with your interior kit will be exactly the same as the sample. There may be some variation in the color or grain of the leather. Returns cannot be accepted based on color. 
*After you place your order, if we are unable to get ahold of you and you have ordered non-factory match colors, we will proactively send you samples in the mail before confirming your order.