Acura Legend Leather Interior
Our Acura Legend leather interior kits are patterned from the original OEM covers to insure a factory fit every time, and are sold in several leather to matching vinyl ratios. Our two most popular ratio packages are the Deluxe and Premium packages. The Deluxe package is leather seating surfaces on the front two buckets with a leather/matching vinyl combination on the rear bench. This package is very popular with the Legend coupes, but is also available for the sedan. The Premium package is full leather seating surfaces on the front buckets and the rear bench. This package is very similar to the leather to vinyl ratio that the Legend's had from the factory. However, we can custom make them in any leather/vinyl content you wish; from 100% vinyl to 100% leather. All of our custom Legend auto upholstery kits come with a 3 year/36,000 mile warranty against any manufacturing defects. Unlike other companies on the web, our leather interiors are designed with the do-it-yourselfer in mind so our warranty is honored whether you install the Legend leather interior yourself or take it to a local upholstery shop.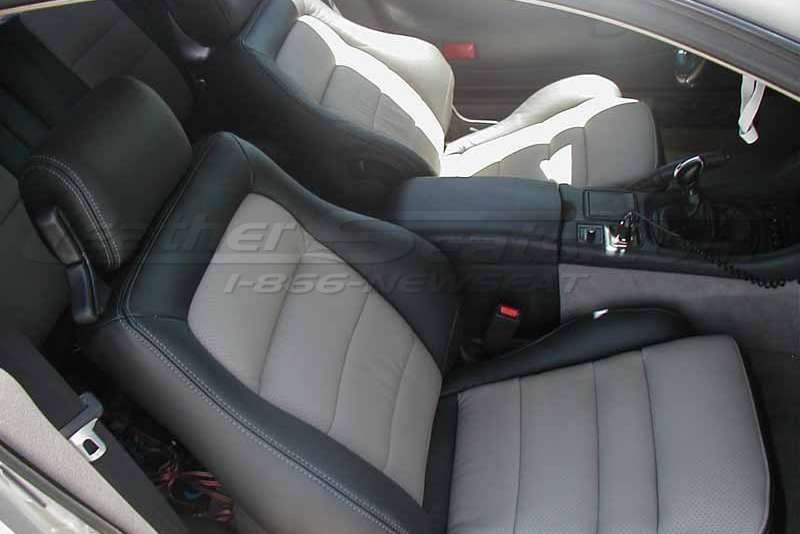 We always want our customers to have control over the design of their Acura Legend custom interior and so we have pre-selected a variety of popular Legend leather interior patterns so each customer can select the pattern and colors they want for their Acura Legend custom leather interior. You can find these two-tone styles in the Leather Content section.  If you cannot find a pattern that matches what you are looking for then just call us and let us know what you are wanting. We will do our best to put together a custom Legend leather auto upholstery package that is exactly what you are looking for.  However, pattern changes are fairly expensive depending on the complexity of the design.  These include such additions like the diamond-pleated inserts seen in the images and videos. All pattern changes inquiries will go through our bespoke project manager.  Anything you can design, we will do our best to build.
Our Acura Legend leather seats are made with top grain, vat dyed, automotive grade leather hides, and are finished in a European style, milled pebble. Our auto upholstery grade leather hides are normally thicker than the OEM leather hides and therefore hold a lot more of the moisture in to keep your leather seats soft and supple for years to come. We use this same automotive grade hides for all our Legend leather seats so if you are looking for, not only Acura Legend leather seats, but also raw materials to complete the restoration or customization of your interior then we have what you need. We want to be your one stop shop for all your custom Legend leather interior products.
If you need any help at please feel free to call us at 1-866-NEW-SEAT. Our sales staff has extensive training on all of our products and should be able to answer or find the answer to any question you might have.