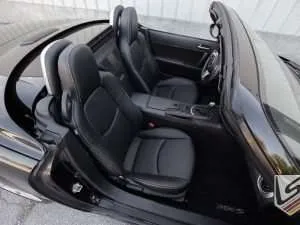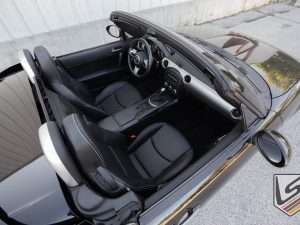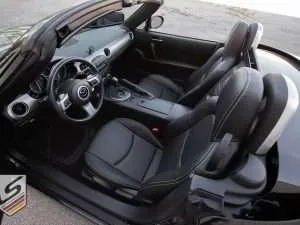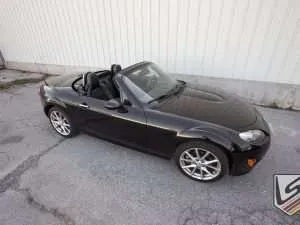 This 2012 Mazda Miata MX-5 came to us needing a refreshed interior but didn't want straight Black. To match some of the trim components in the interior, the customer and us decided on a Silver colored contrasting stitching around the perimeter seams to bring a nice accent to the seats.
Our 2009-2015 MX-5 Miata upholstery kits are designed for the original cloth covers to be removed from the seat foam before installing our custom replacement covers. Basic hand tools, hog rings/pliers, and an upholstery steamer were used on this installation for a factory fit and finish.
– Single-Tone Black
– Contrasting Double-Stitching in Silver
– Non-Perforated
– Optional Matching E-Brake Boot
– Premium or 100% Leather Content
To install the upholstery, you will need hog rings and hog ring pliers in combination with your other common hand tools. We offer a basic installation kit with a bag of hog rings and a quality set of hog ring pliers that keep tension on the hog ring in the nose of the pliers before crimping the ring.
Our aftermarket Carbon Fiber Seat Heaters can be installed in any vehicle with a 12-volt source. This specific set of seat heaters comes with a 3-level round switch that has a High, Medium, and Low setting and is easily installed in most locations. This seat heater kit includes the parts for only one seat so if you are looking to upgrade both of your front seats with seat heaters, then you will need to purchase two kits. If you have any questions feel free to call us at 1-866-639-7328 or email us a [email protected] for more information.