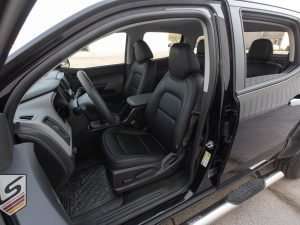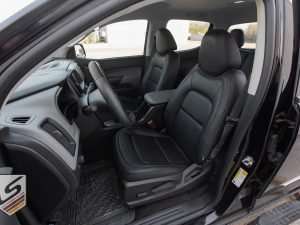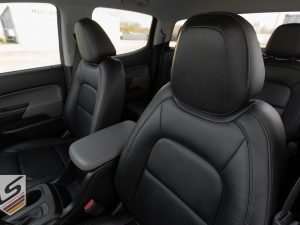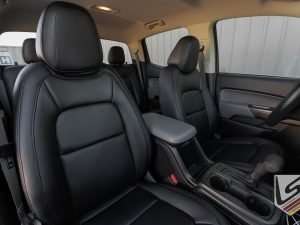 This Chevrolet Colorado Crew Cab Work Truck needed durable and easy to clean seats; however, the cost of upgrading to a higher trim with factory leather could not be justified against the price of an aftermarket LeatherSeats.com upholstery kit.
The single-tone Black upholstery kit was made in our value-based "Deluxe" leather content, a combination of leather and vinyl materials. The front seating surfaces are finished in real leather but have matching black vinyl on the sides of the seats. The rear seats are mostly vinyl but have real leather apportioned to the inserts. This combination of leather and vinyl materials is comparable to a factory leather-trimmed interior, but we offer higher leather content options if you wish to upgrade.
We offer this upholstery kit for 2015-2022 Colorado models in either the Crew Cab or Extended Cab. If you want to configure a package in different colors and options, check out our Interior Configurator.
– Single-Tone Black
– Matching Black Top-Stitching
– Non-Perforated Inserts
– Available for Work Truck, LT, SLT, and more
– Deluxe, Premium, or 100% Leather Content
Do you spend a lot of time in your Colorado? These Liquicell Gel units utilize thin gel pad cells which are designed to increase long-term seating comfort due to reduced and even elimination of occupant fatigue, numbness, fidgeting, and tail burn. These ultra-thin cells contain a liquid that is in constant motion allowing the body to glide or float with the seat to distribute the pressure more evenly across the seat cushion. The Liquicell Gel Pads are very thin which means that there are no physical modifications required for your seat as they can easily be installed in between the factory foam and upholstery in most vehicles. Each set comes with 8 pads, 6 for the cushion and 1 for each cushion side bolster. Make sure that the horizontal placement is symmetrical and evenly placed across the cushion so that pressure is evenly distributed.